GP Boys Choir Ensembles
During the pandemic, all the boys take private lessons in voice. The older boys take private voice and guitar lessons. This provides the boys an opportunity to work on their solo voice while following the health restrictions placed on all choirs at this time.
Normally, Grande Prairie Boys' Choir is carefully grouped into five ensembles according to age, experience, and development, ranging from age eight to adulthood. Each group receives instruction in voice production, performance, acting and musical understanding.
Preparatory Classes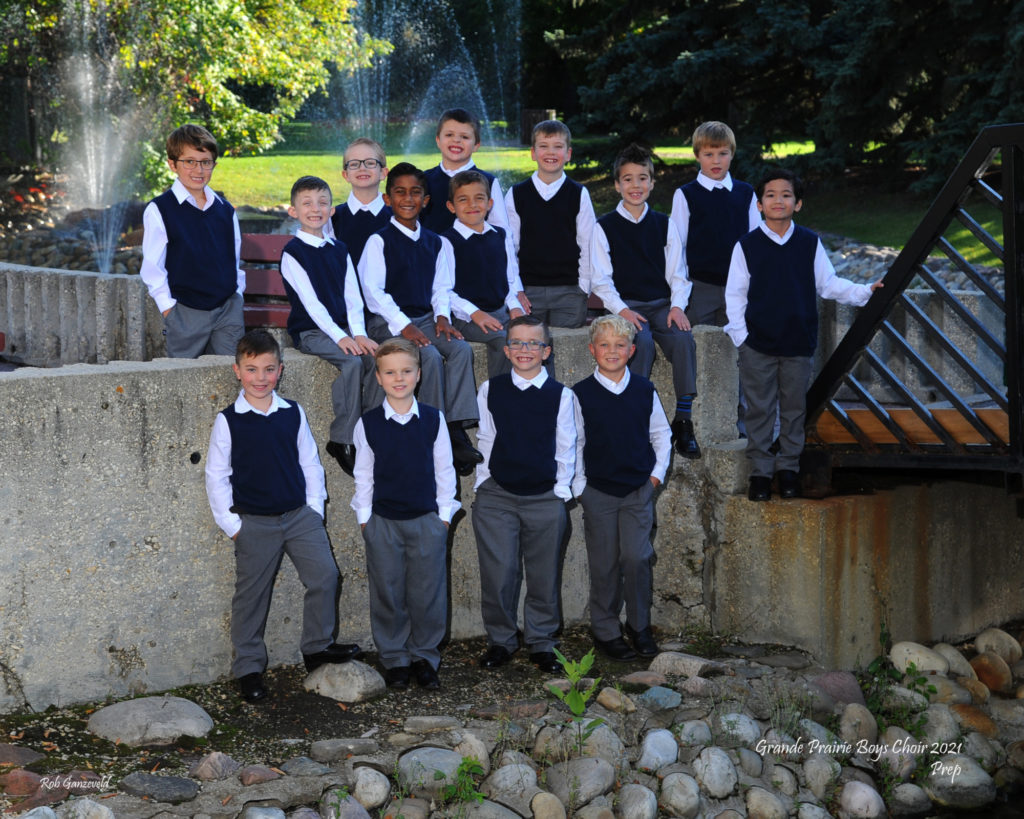 This group is made up of the youngest boys, generally beginning around seven years of age. They meet in two groups of six or seven for one hour a week, in which they learn basics of note reading and the choral score, and begin to explore expressive voice training. They have a unique opportunity to perform with their fathers at the annual Christmas Concert, and also perform in a choir festival and at GPBC's year-end concert.
Junior Choir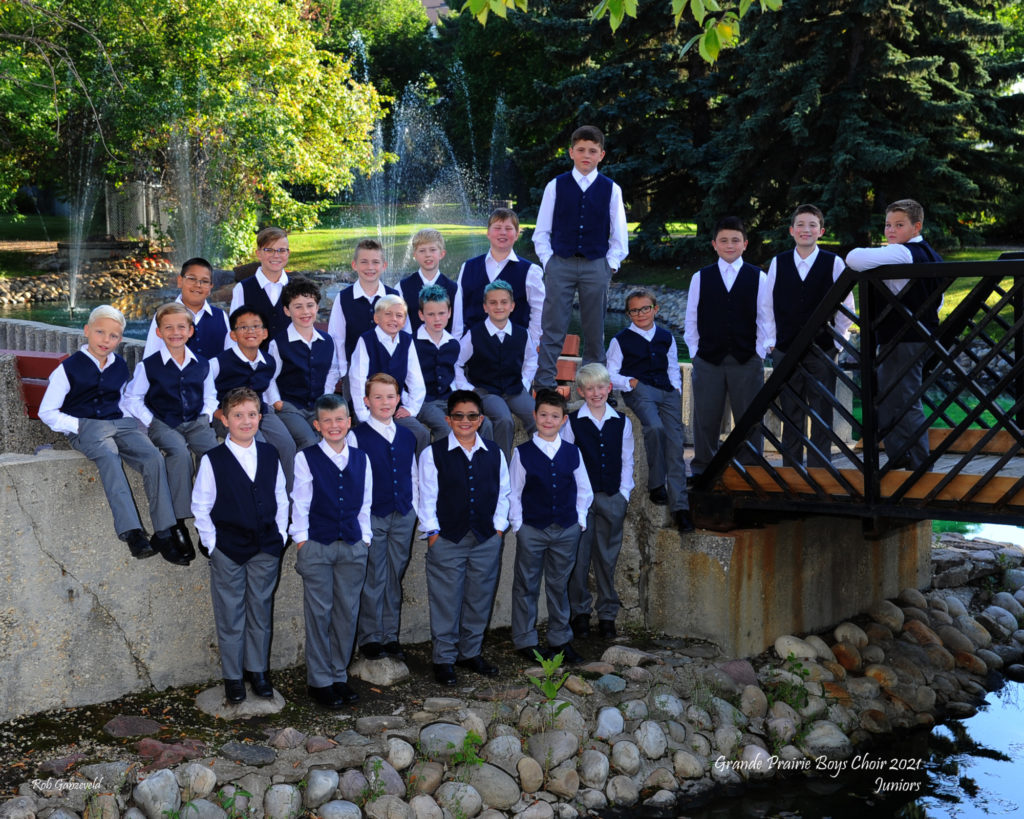 This group is comprised of boys in their second, third and fourth year of choir, generally in grades three to five. They are broken into small groups of six or seven for one-hour small group voice lessons. Although they continue their study of note reading, their focus is on vocal training, performance skills, and drama. As a large group, they have at least two choir rehearsals per month where they work together as a choir or take drama lessons. They perform regularly.
Senior Choir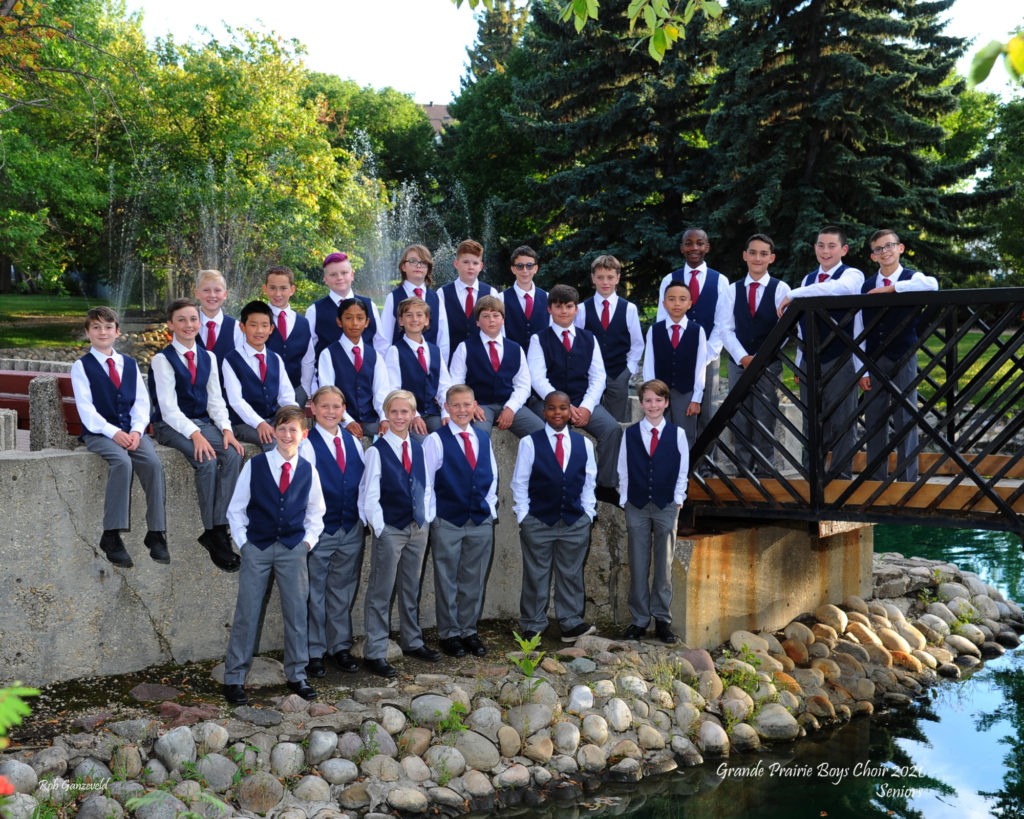 The Senior Choir is comprised of boys in grades six to nine with experience in both choral and solo singing. The broad range of voices within this group allows the boys to perform SAB repertoire, resulting in the ability to perform more complex harmonies. Many of the boys have been performing together for a number of years and have naturally developed strong friendships within the group. They are assigned to the same small groups for voice lessons throughout their stay in Senior Choir and are provided many opportunities for solo performances within the structure of the larger choir. They are also given the opportunity to receive voice instruction through clinics taught by voice teachers from around the province in master classes. The boys often step outside of the choir setting and perform as soloists in local and provincial level festivals, often placing in the top three. The choir offers the boys the additional opportunity to perform in their small groups as well as performing in the larger choir.
Voice Changers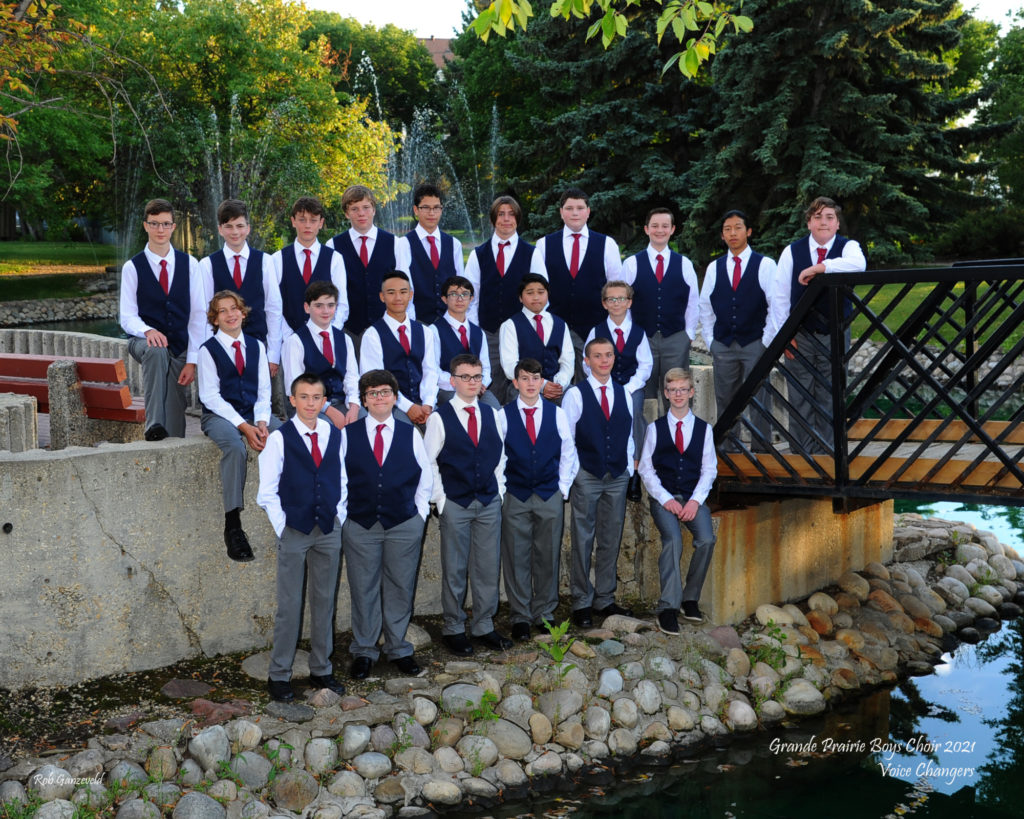 This group, generally coming out of the Senior Choir, consists of young men with changing voices, and is dedicated to the development of their adult voices as they continue to sing through this phase of maturation. Music is either selected or arranged to suit their changing needs, and it is the aim of this part of the program to assist the young men in familiarizing and acclimatizing themselves to their emerging, mature male voice. The small group allows this group to work through this change and support each other with understanding and good humor. These young men perform at all concerts as the baritone section within Senior Choir and are often given substantial roles in humorous dramatic sketches in Christmas and year-end concerts. It is the goal of the Voice-Changing Class to assimilate these young men into the senior group of the GPBC, The Men of Note.
Men Of Note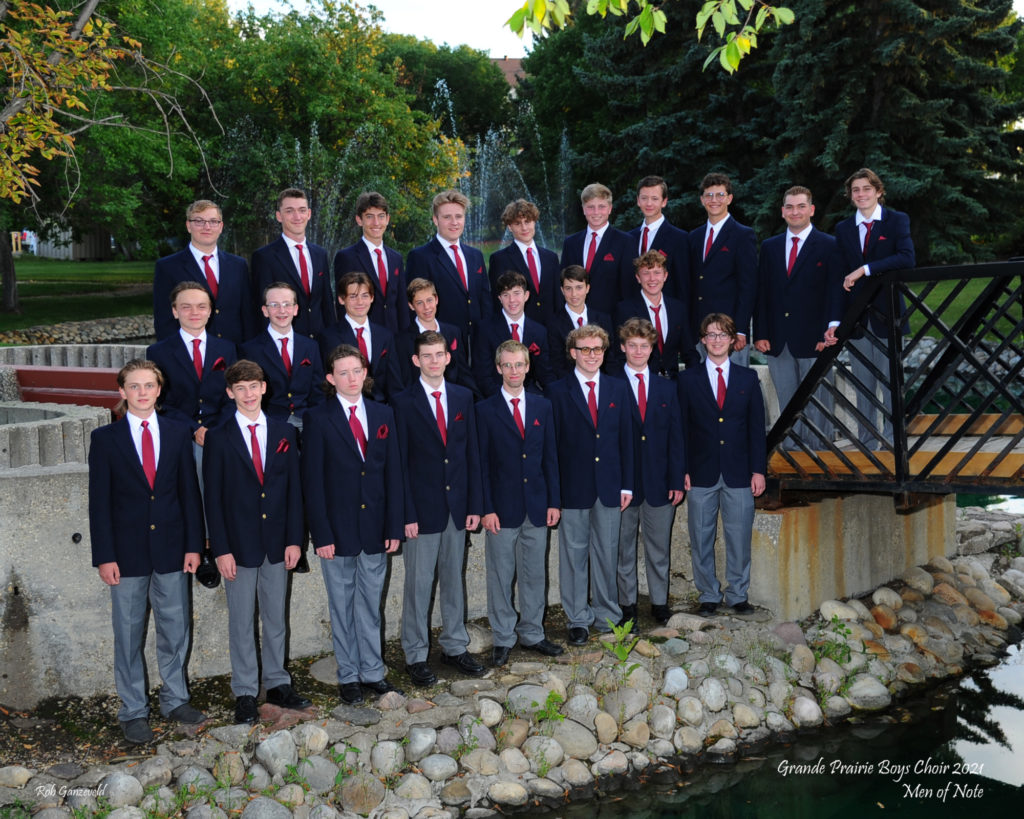 The Men of Note group was formed out of necessity simply because of the members of the GPBC, unwilling to drop out, kept coming back! The group is comprised mainly of young men of High School age, most of whom have been in the choir for at least five years. Since it's inception, Men of Note has developed into a highly polished and talented performance choir in their own right, but will also join with the Senior Choir at GPBC concerts to perform selections from the SATB repertoire. Beyond weekly choir practice, members of the Men of Note are given the opportunity to work under the tutelage of special instructors brought into Grande Prairie to challenge them and expand their musical practice and knowledge. Members of Men of Note can stay until the age of twenty. The Men of Note were National Festival winners in 2012 and 2014.
Service. Mentorship. Camaraderie.